NIF Data Spotlight: Extensible Neuroimaging Archive Toolkit (XNAT)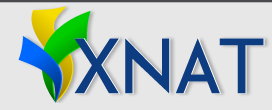 "A picture is worth more than a thousand words". This idea applies to neuroscience and emphasizes the importance of visualization in science. With one image, it is possible to easily extract information and data that can take many words and tables to describe. XNAT, Extensible Neuroimaging Archive Toolkit is an open source imaging informatics platform designed to facilitate management and exploration of medical imaging and related data.
XNAT offers a set of human brain MRI images and its associated data, such as gender, age, clinical dementia rating and socioeconomical status. These associated data give users flexibility on how images can be searched. For example, you can search for brain images of female who is 84 years old (Search syntax:
Female Age 84/ AND terms
) or you can search for brain images for certain disease, such as alzheimers(
Search syntax: Alzheimer's
). XNAT data can be found at Data Type -> Dataset -> XNAT: MRIStudies
Above image is the search result for "age 84 female". Clicking on the subject id will take you to XNAT's website with more information on your subject. These images can be viewed online through XNAT's browser or can be downloaded freely to your hard drive. For more information on how to use XNAT, please visit
XNAT tutorial
.
---
The NIF Data Spotlight
is a weekly blog post highlighting the databases, information, and resources curated by the Neuroscience Information Framework. For comments, questions or concerns feel free to drop us a line at
curation@neuinfo.org
.